Quadrocopter DJI PHANTOM 2 with RC - NOVA VERZIJA
Prodajna cena sa popustom
Opis
NOVA VERZIJA -
DJI Phantom II RTF + Zenmuse H3-3D GoPro 3 gimbal

POTREBNO JE dodati Zenmuse H3-3D i camera GoPro Hero 3 ili 3+ ili 4 ili neki slican gimbal sa 2 ili 3 ose.

ŠTA JE NOVO:
All-in-One New Design
Self-tightening Propeller
Micro USB Port
CAN-Bus Expansion Module

Intelligent, Long Lasting Battery
The high capacity, high performance 5200mAh Lithium Polymer battery offers up to 25 minutes of flight time. It provides battery capacity data, over charge/discharge protection, as well as maintenance reminders making the battery extremely safe and reliable.

Flight Time
25 Mins
25% – 50% – 75% – 100% Battery Capacity

Greater Control
The upgraded remote control comes with many new features. A gimbal control dial, trainer port, built-in rechargeable LiPo battery with a capacity of 2000mAh, battery level LED indicators and throttle locking feature that holds the throttle stick in place when descending are all included. The new remote control is compatible with the Phantom 2 Vision+ and Phantom 2.

Use DJI Lightbridge to control your aircraft or connect the remote control to your computer via the trainer port to run a simulation application and practice your flying skills.
Gimbal Control
Battery Life
Trainer Port

Improved Power
New motors, propellers, and ESCs combine to give you greater thrust and control than ever before. You can load more equipment on your Phantom, and achieve up to 200g/arm of extra thrust when using a 3S LiPo battery with this completely new system.

New Compass
A new, anti-static compass has been developed, with a protective shell to help shield it in any flight conditions

The ideal combination for your access to professional aerial photography - now upgraded version.
Phantom 2 upgraded version
• New remote with build in battery and indicator and port for simulators
• New tilt control
• New throttle stick with lock mode for descending
• New motors, ligter and more power with less vibrations
• New props with higher pitch and tuned for less vibrations
• New better imrpoved Compass
In the box:
1x DJI Phantom 2 Ver 2 Quadcopter
1x 2,4G transmitter - new version
1x 3S 5200mAh lipo battery
1x Lipo charger with balancer
2x Sets of propellers
Gopro and Zenmuse H3-3D is not included.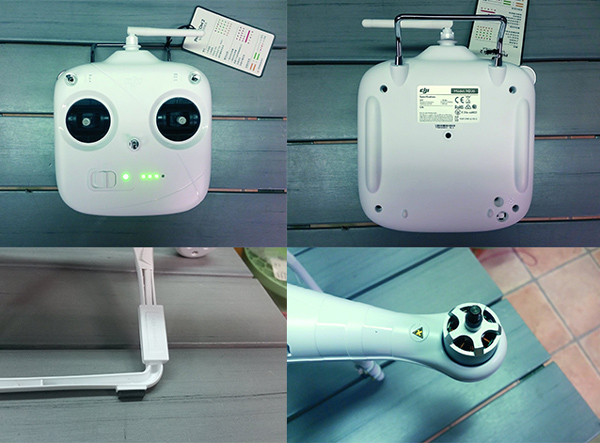 Specifications:

General Features

Ready to Fly, Multifunctional Quad-rotor System

Customized H3-2D and H3-3D Gimbal Support

Precision Flight and Stable Hovering

25min Flight Time & Smart Battery

Auto Return-to-Home & Landing

Advanced Power Management

Intelligent Orientation Control (IOC)

Easy Battery Replacement

Self-tightening Propeller

Video Downlink Support

CAN-Bus Expansion Module

Aircraft

Weight (Battery & Propellers included) 1000g

Hover Accuracy (Ready to Fly) Vertical: 0.8m;
Horizontal: 2.5m

Max Yaw Angular Velocity 200°/s

Max Ascent / Descent Speed Ascent: 6m/s; Descent: 2m/s

Max Flight Speed 15m/s(Not Recommended)

Operating Temperature -10°C ~ 50°C

Supported Battery DJI Smart Battery

DJI Smart Battery

Charging Environment Range 0℃ to 40℃

Discharging Environment Range -20℃ to 50℃

2.4GHz Remote Control

Operating Frequency 2.4GHz ISM

Communication Distance (open area) 1000m

Receiver Sensitivity (1%PER) -97dBm

Working Current/Voltage 120 mA@3.7V

Built-in LiPo Battery Working Current/Capacity 3.7V, 2000mAh
Komentari